Oh, I've gathered photos and written things for you all. Just in case someday you think "now what were Sela Ward's earrings like in
The Day After Tomorrow
?" (for I have that information, and the answer is "not good").
First, quick reviews of the last three movies:
My Fellow Americans
- After a lengthy and unprecedented break in the festival due to a certain brother coming home for the weekend, it picked up again with this. In brief, relatively funny, and not enough Sela Ward. When will they learn??
She plays a news anchor or something, and is in about four scenes. Maybe three. Her wardrobe's eh-eh, but yet again her extreme likability shines forth. Hurray!
Dirty Dancing: Havana Nights
- GASP SELA WARD SLAPPED SOMEONE. I was shocked. Utterly shocked, I say! I was both expecting and looking forward to the "You can't give up your future for this poor Cuban boy!" speech, but slapping her daughter? Total surprise, that.
This is actually the movie that gave her the most to do character-wise. Except for the slapping part, I totally want to be like her if I'm ever a mom, complete with awkward conversation about sex with my daughter.
For the record, I saw
Dirty Dancing
for the first time last week so as to have background info for this, and I haaated it. Except for the soundtrack, which is great. The movie itself I never want to see again. I liked this one a lot, although I kept remembering a line from Futurama: "Tonight we are slaves to nothing...but the rhythm."
The Day After Tomorrow
- Sela, again playing a wife (but this time a doctor! hurray!), but she gets to be the person whose reactions stand for most of the watching nation's. Have I mentioned lately how much apocalyptic movies scare me? A lot. They scare me a lot. Yet I keep watching them. Thus, I will say that this movie rocks, despite apparently faulty weather information (thank you, Audy and your weather class). I think mainly because they hole up in the NY Public Library. And because there're wolves.
And in case you didn't want to read anything, I have it — mostly — in
First, all of these are courtesy of the perhaps overly helpful
Sela-Ward.org
. There's way too much information on that site.
HELLO AGAIN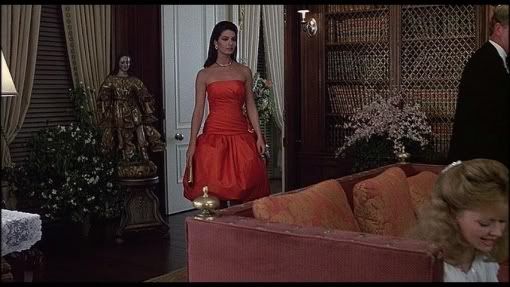 Her first appearance in the movie. I know, poofy dress, but it was 1987.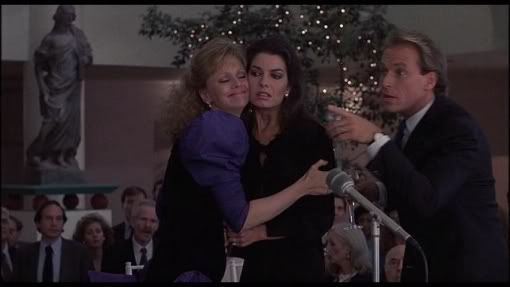 She's supposed to be evil, but aww, it's Sela Ward.
THE FUGITIVE
All I have from this are two pictures from the same scene since she's getting killed in most of the others.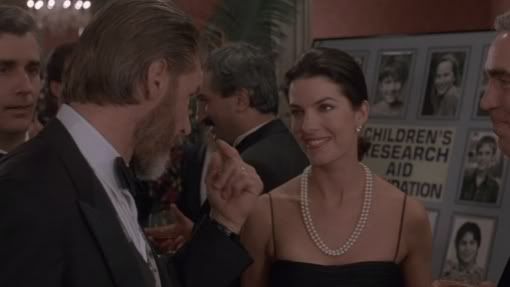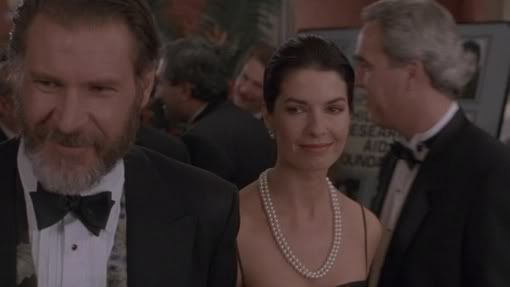 Ok, check out how cute she and Harrison Ford are. That whole plot premise is just so unfortunate.
MY FELLOW AMERICANS
Ugh. I don't know. Her hair's cute for 1996. Again, she was a news anchor or something.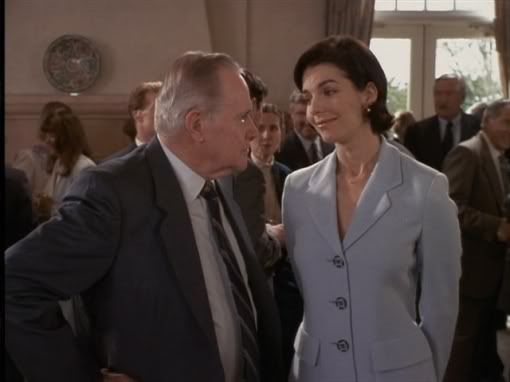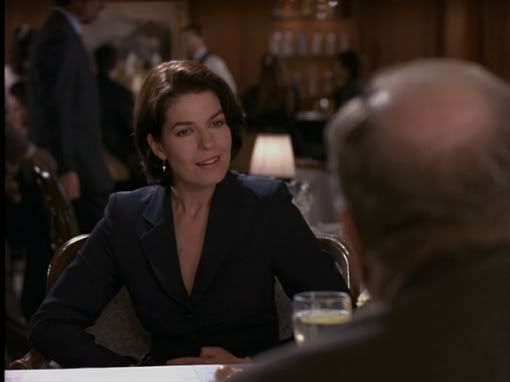 DIRTY DANCING: HAVANA NIGHTS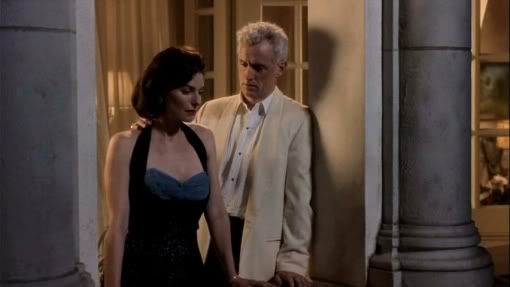 I refuse to accept her being married to this man. I'd like to take this opportunity to point out that he doesn't work as Julia Roberts' boyfriend in
Mona Lisa Smile
either.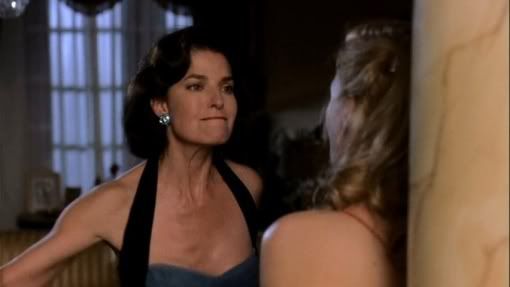 Pre-slappage.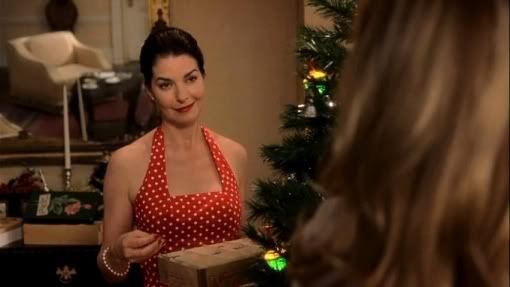 "I'm Sela Ward and I'm dressin' all 1950s! Hurray!"
THE DAY AFTER TOMORROW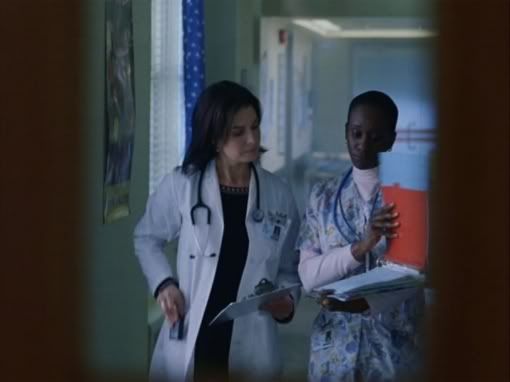 "I'm Sela Ward and I'm playing a doctor, so here I am in my doctor coat."
That's my interpretation of what was going through her head in that scene. That or her lines and blocking. Whatever.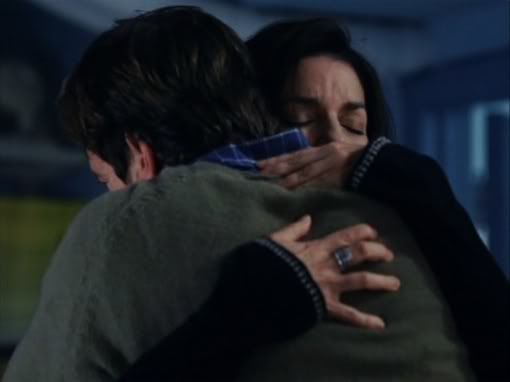 The hug with Dennis Quaid was nice. I like her sweater sleeve length.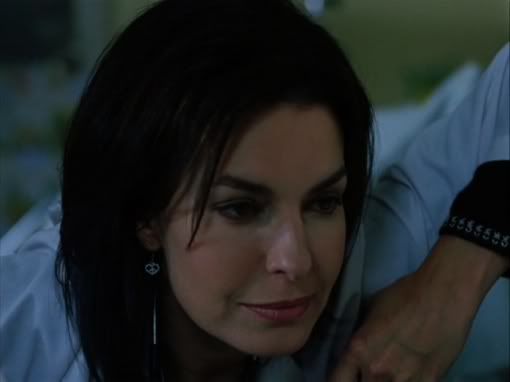 I know, I know. You're wondering why Sela Ward has pretzel earrings. Now, I realize they're supposed to be hearts with peace signs inside, but A) that's a horrible idea, and B) because they look like pretzels.
THE REEF
(I didn't watch this one, but I wanted to share a picture from it)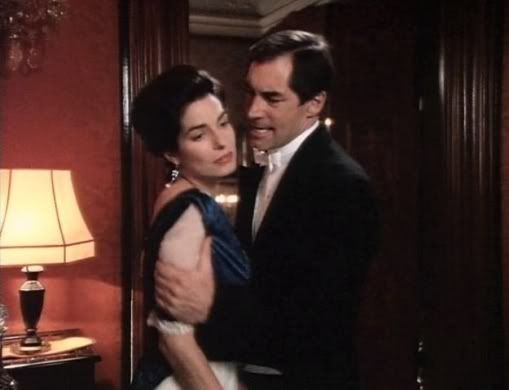 Doesn't this look like a bad play? But it's Sela Ward and Timothy Dalton! Hurray!
And finally, some pictures I like.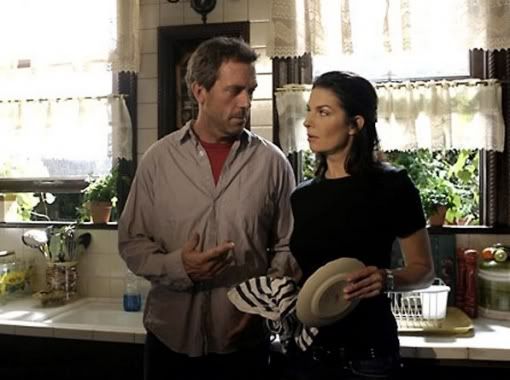 HOUSE <3 STACY 4VR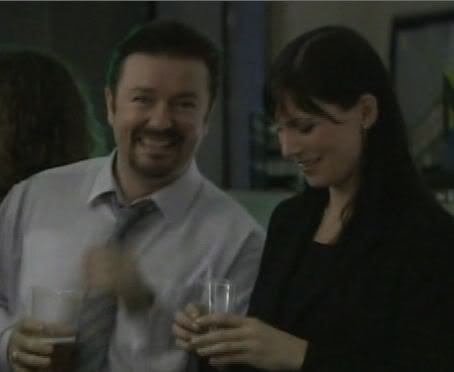 I capped these hastily, so forgive the quality.
I wanted to ship David with Jennifer (aka Michael and Jan) on
The Office
, but they left me with no leeway to do so other than this scene, and by then I had no desire left to do so. Still, they're cute.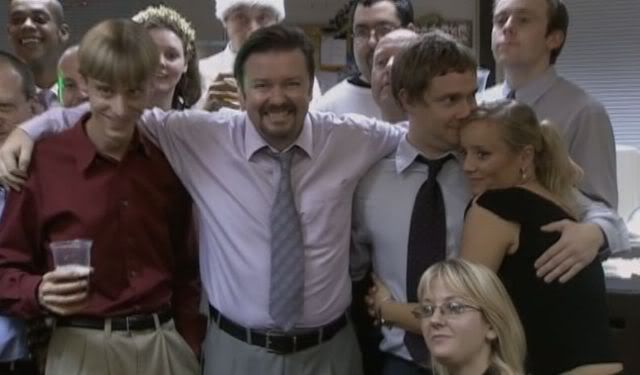 TIM AND DAWN!!!
Thank you for participating in what was probably something of a waste of time. But now when you see a movie with Sela Ward, you can be like "Oh. She's playing a wife. What a shock." And feel all the wiser for it. (maybe not really, but I have to justify this somehow)
Sela Ward Wrap-Up Post of Amazing!!!